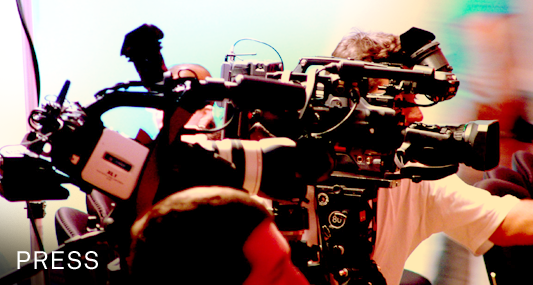 Interactive Technologies Showcased at ACM Conference on Computer-Human Interaction
VANCOUVER, BC -- (May 2) Over twenty exhibits of interactive technology developed by leading researchers and designers will be presented at ACM's Conference on Computer-Human Interaction, May 9-12, at the Vancouver Convention Centre. These include a variety of fully interactive installations as well as performances.
The Interactivity exhibits will be demonstrated or performed during the conference starting the evening of Monday, May 9th, and throughout the rest of the conference. These exhibitions include:
Collecting the History of Interactive Devices
An exhibit of interactive devices from the past 35 years that point to ways of interacting with computers in the future. First shown at the Vancouver Art Gallery in 2004 (and updated for 2011), the collection documents the history of pen computing, pointing devices, touch technologies, and illustrates the nature of how new technologies emerge.
Touch and Copy, Touch and Paste
A novel touch-screen based interaction method to seamlessly transfer data between digital devices in a fun and intuitive way.
MediaDiver: Viewing and Annotating Multi-View Video
a rich media interface that allows moving target selection methods, multi-view selection techniques, and integrated annotation methods for viewing or authoring.
Frictional Widgets: Enhancing Touch Interfaces with Programmable Friction
Explores the design possibilities offered by augmenting touch screens with programmable surface friction.
Mouseless
A novel input device that provides the familiarity of interaction of a physical computer mouse without requiring a real hardware mouse.
Coco - The Therapy Robot
A geriatric care facility robot intended to interact with, remind and motivate its owner.
What Does A Body Know?
A performance work for a Digital Ventriloquized Actor (DiVA). Performed only once on May 10th at 5:30 PM, prior to the Video Program.
Humanaquarium: Exploring Audience Participation and Interaction
A cube-shaped interactive box houses two musicians while they perform and collaborating with the audience to co-create an audio-visual experience. Performed several times on May 10th at 5:30 PM.
About CHI
The annual conference on Computer-Human Interaction (www.chi2011.org) is the premier worldwide forum for exchanging information on all aspects of how people interact with computers. Workshops and sessions explore the future of computer-human interaction with researchers, practitioners, educators and students. Presentations will address the concerns of design, engineering, management and user experience professionals. This year's conference additionally highlights research on child-computer interaction, entertainment, health and sustainability.
More than 2,500 professionals from over 40 countries are expected at CHI 2011, which is sponsored by ACM' s Special Interest Group on Computer Human Interaction (SIGCHI). The conference marks 29 years of research, innovation and development of the Computer-Human Interaction community. Financial support for the conference is provided in part by Bloomberg; eBay; Google, Inc.; Microsoft Corp.; SAP and the National Science Foundation (NSF).
About SIGCHI
The ACM Special Interest Group on Computer-Human Interaction (www.sigchi.org) is the world' s largest association of professionals in the research and practice of computer-human interaction. SIGCHI serves as a forum for ideas on how people communicate and interact with computer systems. This interdisciplinary group of computer scientists, software engineers, psychologists, interaction designers, graphic designers, sociologists, and anthropologists is committed to designing useful, usable technology which has the potential to transform individual lives. SIGCHI has more than 60 local chapters for HCI professionals across five continents, publishes the SIGCHI Bulletin quarterly, and co-sponsors conferences and workshops to advance the field of computer-human interaction.
About ACM
ACM, the Association for Computing Machinery (www.acm.org), is the world' s largest educational and scientific computing society, uniting computing educators, researchers and professionals to inspire dialogue, share resources and address the field's challenges. ACM strengthens the computing profession' s collective voice through strong leadership, promotion of the highest standards, and recognition of technical excellence. ACM supports the professional growth of its members by providing opportunities for life-long learning, career development, and professional networking.
Image credits: Flickr user Sergio Savarese