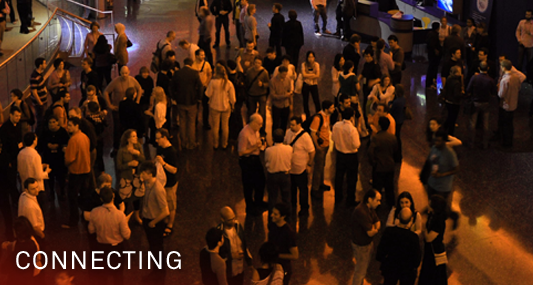 Best of CHI 2011 Award Winners
ACM SIGCHI – the official sponsor of 2011 ACM conference on Human Factors in Computing Systems CHI 2011 , the premiere international conference for Human-Computer Interaction to be held in Vancouver, BC, Canada, 9-12 May 2011 – today announced the winners of the annual "Best of CHI" awards. The program recognizes outstanding work in the field of human-computer interaction (HCI) by honoring exceptional technical papers, notes and case studies submitted to CHI.
The review committees for these formally reviewed submission categories nominated the top 5% of submissions to receive "Honorable Mention" awards. A separate Best of CHI Committee then reviewed the "Honorable Mention" awardees and selected a subset that is no greater than 1% of all submissions to receive a "Best" designation.
For CHI 2011, the Papers and Notes committee awarded "Honorable Mention" to 77 out of the 1540 submissions. Of these top 5% "Honorable Mention" recipients, the Best of CHI Committee awarded "Best" designations to 15 Papers and Notes.
This year, in addition to awards in the CHI Papers and Notes venues, awards were also designated for exceptional Case Studies that explore the application of HCI principles on real world experience. The Case Studies committee awarded "Honorable Mention" to 4 of the 72 submissions, one of which also received a "Best" designation.
Congratulations to all of the award winners listed below.
CHI 2011 Bestpapers
CHI 2011 Best Notes
CHI 2011 Best Case Study
CHI 2011 Honorable Mention Papers
CHI 2011 Honorable Mention Notes
CHI 2011 Honorable Mention Case Studies
CHI 2011 Awards Committee
CHI 2011 BEST PAPERS
Bricolage: Example-Based Retargeting for Web Design
Ranjitha Kumar, Jerry Talton, Salman Ahmad, Scott Klemmer , Stanford University (United States)
This paper introduces the Bricolage algorithm for example-based retargeting of Web designs. The algorithm automatically transfers the content of one Web page into the style and layout of another.
Teenagers and Their Virtual Possessions: Design Opportunities and Issues
William Odom, John Zimmerman, Jodi Forlizzi , Carnegie Mellon University (USA)
We report on interviews with teenagers exploring the perceived value of their virtual possessions compared to material things, and detail research and design opportunities and issues in this emerging space.
Mid-air Pan-and-Zoom on Wall-sized Displays
Mathieu Nancel, Julie Wagner, Emmanuel Pietriga, Olivier Chapuis, Wendy Mackay, INRIA; Univ. Paris-Sud & CNRS (France)
Design and evaluation of multiscale navigation techniques for very large displays based on three key factors: number of hands involved, type of movement, type of feedback.
Why is My Internet Slow?: Making Network Speeds Visible
Marshini Chetty, Georgia Institute of Technology (USA)
David Haslem, Orange Sparkle Ball (USA)
Andrew Baird, Amazon.com (USA)
Ugochi Ofoha, Bethany Sumner, Rebecca Grinter, Georgia Institute of Technology (USA)
Describes field trial of home broadband management tool. Can assist Internet policy makers, Internet Service Providers and designers understand home internet user needs for checking and managing broadband speed.
Synchronous Interaction Among Hundreds: An Evaluation of a Conference in an Avatar-based Virtual Environment
Thomas Erickson, N. Sadat Shami, Wendy Kellogg, David Levine , IBM T.J. Watson Research Center (United States)
This study of a conference in a 3D virtual world examines ways that technology succeeded or failed at supporting large-scale social interaction. Offers insights for designers and issues for theorists.
Your Noise is My Command: Sensing Gestures Using the Body as an Antenna
Gabe Cohn, Daniel Morris, Shwetak Patel, Desney Tan, Microsoft Research, University of Washington (United States)
We use the body as a receiving antenna and leverage ambient electromagnetic noise for gestural interaction on uninstrumented surfaces. We demonstrate robust classification of several classes of in-home gestures.
Enhancing Physicality in Touch Interaction with Programmable Friction
Vincent Levesque, Louise Oram, Karon MacLean, University of British Columbia (Canada)
Andy Cockburn, University of Canterbury (New Zealand)
Nicholas Marchuk, Dan Johnson, J. Edward Colgate, Michael Peshkin, Northwestern University (United States)
Demonstrates that adding programmable friction to touch interfaces improves targeting performance and has a positive impact on the enjoyment, engagement and sense of realism experienced by users.
Usable Gestures for Blind People: Understanding Preference and Performance
Shaun Kane, Jacob Wobbrock, Richard Ladner, University of Washington (United States)
User study in which blind and sighted users performed gestures on touch screens. Our analysis compares users' preference and performance characteristics, and provides guidance for designing future touch screen user interfaces.
Automics: souvenir generating photoware for theme parks
Abigail Durrant, University of Nottingham (United Kingdom)
Duncan Rowland, University of Lincoln (United Kingdom)
David Kirk, Steve Benford, Joel Fischer, Derek McAuley , University of Nottingham (United Kingdom)
Describes initial fieldwork and subsequent design and evaluation of Automics, a mobile device based photo-souvenir service, supporting capture, sharing and annotation of digital images amongst groups of theme park visitors
Effects of Community Size and Contact Rate in Synchronous Social Q&A
Ryen White, Matthew Richardson , Microsoft Research (United States)
Yandong Liu, Carnegie Mellon University (United States)
Longitudinal user study of a synchronous social Q&A system investigating the effects of contact rate and community size. Findings can help social Q&A system designers understand important cost-benefit tradeoffs.
Review Spotlight: A User Interface for Summarizing User-generated Reviews Using Adjective-Noun Word Pairs
Koji Yatani, Michael Novati, Andrew Trusty, Khai Truong, University of Toronto (Canada)
Investigates the design of a tag-cloud interface which uses adjective-noun pairs to summarize and support quick detail exploration of online reviews.
In the Shadow of Misperception: Assistive Technology Use and Social Interactions
Kristen Shinohara, Jacob Wobbrock, University of Washington (USA)
Interview study investigating how assistive technology use is affected by social and professional contexts and interactions. Provides an understanding of how design of assistive technology affects access and use.
Ease of Juggling: Studying the Effects of Manual Multitasking
Antti Oulasvirta, Joanna Bergstrom-Lehtovirta, Aalto University and University of Helsinki (Finland)
Presents a test for assessing the effects of design on multi-object manual performance. Shows that nominally similar interfaces (e.g., "one-handed input") can vary dramatically in terms of "ease of juggling"
CHI 2011 BEST NOTES
Interactive Generator: A Self-Powered Haptic Feedback Device
Akash Badshah, Phillips Exeter Academy (United States)
Sidhant Gupta, Gabe Cohn , University of Washington (United States)
Nicolas Villar, Steve Hodges , Microsoft Research (United Kingdom)
Shwetak Patel, University of Washington (United States)
Presents a working prototype of a general purpose wireless remote control that is self-powered and capable of providing haptic feedback.
Eyes-Free Multitasking: The Effect of Cognitive Load on Mobile Spatial Audio Interfaces
Yolanda Vazquez-Alvarez, Stephen Brewster , University of Glasgow (United Kingdom)
This paper presents a comparative study on spatial audio interfaces supporting eyes-free interaction under varying cognitive workload. It informs future designs of spatial audio interfaces that support mobile multitasking.
CHI 2011 BEST CASE STUDY
Designing an E-Solution for Linking Informal Self-Help Groups in Africa – A Case Study
Mokeira Masita-Mwangi, Faith Ronoh-Boreh, Nyambura Kimani, Nancy Mwakaba, Grace Kihumba, Imelda Mueni, Jussi Impio, Nokia Research Center, Africa (Kenya)
This case study documents development and use of technologies to facilitate emergent social practices and shows how HCI practitioners should exhibit competence working with unique social conditions.
CHI 2011 HONORABLE MENTION PAPERS
Comparing Activity Theory with Distributed Cognition for Video Analysis: Beyond "Kicking the Tires"
Eric Baumer, Cornell University (USA)
Bill Tomlinson, University of California, Irvine (USA)
This paper applies activity theory and distributed cognition to the same video data, providing both a practical comparison of the theories themselves and broader discussion of theory's role in HCI.
Biofeedback Game Design: Using Direct and Indirect Physiological Control to Enhance Game Interaction
Lennart Nacke, Michael Kalyn, Calvin Lough, Regan Mandryk, University of Saskatchewan (Canada)
We present a new axis considering physiological game control and show player responses to manipulations on this axis. This is an opportunity for interaction design researchers to innovate in physiologically-controlled gaming.
The Imposition and Superimposition of Digital Reading Technology: The Academic Potential of E-readers
Alexander Thayer, Charlotte Lee, Linda Hwang, Heidi Sales, Pausali Sen, Ninad Dalal, University of Washington (United States)
Longitudinal qualitative study of students' integration of e-readers into academic reading practice. Contributes new knowledge regarding design considerations that limit the value of e-readers for academic use.
Kineticons: Using Iconographic Motion in Graphical User Interface Design
Chris Harrison, Carnegie Mellon University (United States)
Gary Hsieh, Michigan State University (United States)
Karl Willis, Jodi Forlizzi, Scott Hudson, Carnegie Mellon University (United States)
Exploring the Potential for Touchless Interaction in Image-Guided Interventional Radiology
Rose Johnson, Open University (UK)
Kenton O'Hara, Abigail Sellen, Microsoft Research (UK)
The paper presents an ethnographic study of image production and use during interventional radiology procedures. The findings are used to discuss opportunities for touchless interaction in sterile surgical environments.
Synchronous Remote Usability Testing - A New Approach Facilitated By Virtual Worlds
Kapil Chalil Madathil, Joel Greenstein, Clemson University (United States)
A new methodology for conducting a synchronous remote usability test using virtual worlds. The results suggest that this method appears to be a viable alternative to the conventional lab testing approach.
GridOrbit – An Awareness System Supporting the Adoption of a Volunteer Computing Infrastructure
Juan David Hincapié Ramos, Aurélien Tabard, Jakob Bardram, IT University of Copenhagen (Denmark)
Describes a month-long study of the impact of awareness technologies - public displays and personal notifications - on the recruitment to a local volunteer computing infrastructure in a biology lab.
ClassSearch: Facilitating the Development of Web Search Skills through Social Learning
Neema Moraveji, Stanford University (USA)
Meredith Morris, Daniel Morris, Mary Czerwinski, Nathalie Henry Riche, Microsoft Research (USA)
The design and study of a system to enable the social learning of Web search skills in a classroom environment by displaying aggregated and individual searcher metadata in myriad arrangements.
Commentspace - Structured Support for Collaborative Visual Analysis
Wesley Willett, University of California, Berkeley (USA)
Jeffrey Heer, Stanford University (USA)
Joseph Hellerstein, Maneesh Agrawala, University of California, Berkeley (USA)
Explores the impact of lightweight tag and link structure on collaborative visual analysis. Describes a system in which analysts can comment on visualizations and use tags/links to organize their findings.
MOGCLASS: Evaluation of a Collaborative System of Mobile Devices for Classroom Music Education of Young Children
Yinsheng Zhou, National University of Singapore (Singapore)
Graham Percival, (Canada)
Xinxi Wang, Ye Wang, Shengdong Zhao, National University of Singapore (Singapore)
Describes a novel and useful system and guidelines for designers of collaborative systems for classroom music education. Presents practitioners with a clear method for iterative design and system usability evaluations.
SandCanvas: A Multi-touch Art Medium Inspired by Sand Animation
Rubaiat Habib Kazi, Kien Chuan Chua, Shengdong Zhao, National University of Singapore (Singapore)
Richard Davis, Singapore Management University (Singapore)
Kok-Lim Low, National University of Singapore (Singapore)
Discusses common sand animation hand gestures, real-time sand rendering, and unique affordances of an artistic medium named SandCanvas. SandCanvas simplifies the creation of sand animation and enables new capabilities.
Hang on a Sec! Effects of Proactive Mediation of Phone Conversations while Driving
Shamsi Iqbal, Eric Horvitz, Yun-Cheng Ju, Microsoft Research (United States)
Ella Mathews, California Institute of Technology (United States)
This paper investigates the effectiveness of automated interventions during scenarios involving driving and cell phone conversations. Different types of interventions that alerted participants towards road conditions were tested.
Target Assistance for Subtly Balancing Competitive Play
Scott Bateman, Regan Mandryk, University of Saskatchewan (Canada)
Tadeusz Stach, Queen's University (Canada)
Carl Gutwin, University of Saskatchewan (Canada)
Study of three target assistance techniques for increasing competition between differently skilled players. We found two techniques were effective for balancing play and assisted players reported having more fun.
Homebrew Databases: Complexities of Everyday Information Management in Nonprofit Organizations
Amy Voida, Ellie Harmon, Ban Al-Ani, University of California, Irvine (United States)
Describes a qualitative study characterizing the assemblages of information management systems that volunteer coordinators create to satisfice their information management needs. Findings suggest research trajectories for creating human-centered databases.
Eden: A Professional Multitouch Tool for Constructing Virtual Organic Environments
Kenrick Kin, Tom Miller, Pixar Animation Studios (United States)
Björn Bollensdorff, Technische Universität Berlin (Germany)
Tony DeRose, Pixar Animation Studios (United States)
Björn Hartmann, Maneesh Agrawala, University of California, Berkeley (United States)
Describes a professional multitouch tool for building virtual organic environments at Pixar Animation Studios. Can assist application developers in designing multitouch gestures and systems.
Designing a Phone Broadcasting System for Urban Sex Workers in India
Nithya Sambasivan, University of California, Irvine (United States)
Julie Weber, Edward Cutrell, Microsoft Research India (India)
Describes the design of a broadcasting system for a marginalized population; identifies the unique lifestyle issues and design implications of interactive systems for invisible and wary populations.
Which Version is This?: Improving the Desktop Experience within a Copy-Aware Computing Ecosystem
Amy Karlson, Greg Smith, Bongshin Lee, Microsoft Research (United States)
Introduces the vision and value of computing ecosystems that track and surface copy relationships between files to help users manage digital belongings. Informs the design and development of such systems.
Experiencing Security in Interaction Design
Niels Mathiasen, Susanne Bødker, Aarhus University (Denmark)
Participatory design approach on design of a mobile digital signature solution for everyday people with a focus on users' experience of security.
Importance-Driven Compositing Window Management
Manuela Waldner, Markus Steinberger, Graz University of Technology (Austria)
Raphael Grasset, University of Canterbury (New Zealand)
Dieter Schmalstieg, Graz University of Technology (Austria)
Importance-driven compositing optimizes the spatial window layout for maximum visibility and interactivity of occluded content. We present novel window manager functions to improve the access to occluded window content.
Evaluating Effects of Structural Holds on Pointing and Dragging Performance with Flexible Displays
Rob Dijkstra, Christopher Perez, Roel Vertegaal, Human Media Lab, Queen's University (Canada)
Empirical evaluation of pointing and dragging performance on a flexible display. Demonstrates force fields in a flexible display, generated by ways of holding, affect IP in both pointing and dragging tasks.
Sensor Synaesthesia: Touch in Motion, and Motion in Touch
Ken Hinckley, Microsoft Research (USA)
Hyunyoung Song, University of Maryland (USA)
Explores multimodal touch + motion-sensing gestures for mobile devices. Discusses the design space of touch + motion by articulating its properties and by charting a taxonomy of related techniques.
Typing on Flat Glass: Examining Ten-Finger Expert Typing Patterns on Touch Surfaces
Leah Findlater, Jacob Wobbrock, University of Washington (USA)
Daniel Wigdor, Microsoft Research, University of Washington (USA)
To inform future designs of touch screen keyboards and, ultimately, support eyes-free typing, we examine typing patterns that emerge when expert users of physical keyboards touch-type on a flat surface.
Designing eco-feedback systems for everyday life
Yolande Strengers, Centre for Design, RMIT University (Australia)
Challenges dominant resource management assumptions underpinning eco-feedback programs and proposes a new design paradigm premised on the realities of everyday life. Can assist HCI designers facilitating energy and water conservation.
Sasayaki: Augmented Voice Web Browsing Experience
Daisuke Sato, IBM Research - Tokyo (Japan)
Shaojian Zhu, UMBC (United States)
Masatomo Kobayashi, Hironobu Takagi, Chieko Asakawa, IBM Research - Tokyo (Japan)
Describes an auditory web browsing whereby the output is augmented by a secondary "whisper" of contextual information. Can increase information density and satisfaction of people who use auditory interface.
Materializing the Query with Facet-Streams - A Hybrid Surface for Collaborative Search on Tabletops
Hans-Christian Jetter, Jens Gerken, Michael Zöllner, Harald Reiterer, University of Konstanz (Germany)
Natasa Milic-Frayling, Microsoft Research Ltd (United Kingdom)
Presents and evaluates the design of a tabletop for co-located collaborative product search. Uses tangibles, multi-touch and a filter/flow metaphor to bring the power of faceted search to tabletops.
Surfpad: Riding Towards Targets on a Squeeze Film Effect
Géry Casiez, LIFL & INRIA Lille & University of Lille (France)
Nicolas Roussel, Romuald Vanbelleghem, INRIA Lille (France)
Frédéric Giraud, L2EP & INRIA Lille & University of Lille (France)
A pointing facilitation technique that operates in the tactile domain by altering a touchpad's coefficient of friction. Leads to performance benefits and is robust to high distractor densities.
Skim Reading by Satisficing: Evidence from Eye Tracking
Geoffrey Duggan, Stephen Payne, University of Bath (United Kingdom)
Eyetracking data support the idea that skim readers use a satisficing strategy to focus on the important parts of expository text. Implications are sketched for design of skimmable on-line texts.
Understanding People and Animals: The Use of a Positioning System in Ordinary Human-Canine Interaction
Alexandra Weilenmann, University of Gothenburg (Sweden)
Oskar Juhlin, Mobile Life @ Stockholm University (Sweden)
Based on an analysis of how GPS tracking systems support the interaction between dogs and hunters, we provide new directions for the field of human-animal interaction within HCI.
Reflecting on Pills and Phone Use: Supporting Awareness of Functional Abilities for Older Adults
Matthew Lee, Anind Dey, Carnegie Mellon University (USA)
Case studies of older adults reflecting on home sensor data about their medication and phone use behaviors to support self-awareness of their ability to age in place successfully.
HeatWave: Thermal Imaging for Surface User Interaction
Eric Larson, Gabe Cohn, Sidhant Gupta, University of Washington (United States)
Xiaofeng Ren, Beverly Harrison, Dieter Fox, Intel Labs Seattle (United States)
Shwetak Patel, University of Washington (United States)
Presents a new system for interacting with a projected planar surface using thermal imaging. Can provide robust, pressure aware multi-touch detection for interactive surface designers.
Making Spaces: How Design Workbooks Work
William Gaver, Goldsmiths, University of London (United Kingdom)
Describes how we construct design workbooks, which are collections of proposals and related materials. Their mix of resolution, openness and provisionality is useful in evolving rich and non-obvious design spaces.
Design Lessons from the Fastest Q&A Site in the West
Lena Mamykina, Columbia University (United States)
Bella Manoim, Bard College (United States)
Manas Mittal, UC Berkeley (United States)
George Hripcsak, Columbia University (United States)
Björn Hartmann, UC Berkeley (United States)
Study of a Q&A site for programmers, Stack Overflow, using mixed methods. Results show that both the technical design and community involvement of the designers are essential to success.
Rethinking 'multi-user': an in-the-wild study of how groups approach a walk-up-and-use tabletop in a tourist centre
Paul Marshall, The University of Warwick (United Kingdom)
Richard Morris, Yvonne Rogers, Stefan Kreitmayer, The Open University (United Kingdom)
Matt Davies, user-x.com (United Kingdom)
An in-the-wild study of a multi-touch tabletop interface in a tourist centre. Questions the utility of the concept of 'multi-user' in public settings.
Normative Influences on Thoughtful Online Participation
Abhay Sukumaran, Stanford University (United States)
Stephanie Vezich, UCLA (United States)
Melanie McHugh, Clifford Nass, Stanford University (United States)
Describes two experiments on using norms to induce thoughtful participation during online commenting. Normative effects stemming from social behavior and website design are tested.
Practical, Appropriate, Empirically-Validated Guidelines for Designing Educational Games
Conor Linehan, Ben Kirman, Shaun Lawson, University of Lincoln (United Kingdom)
Gail Chan, Oxford Brookes University (United Kingdom)
Proposes guidelines for designing educational games based upon a powerful, empirically established method of teaching. Facilitates the practical task of merging the apparently disparate goals of education and games design.
On the audio representation of radial direction
Susumu Harada, Hironobu Takagi, Chieko Asakawa, IBM Research - Tokyo (Japan)
Presents a method for sonifying radial directions in auditory display systems, enabling shapes and directions to be perceived eyes-free. Viability of the approach validated in a longitudinal study.
Magic Desk: Bringing Multi-Touch Surfaces into Desktop Work
Xiaojun Bi, Tovi Grossman, Justin Matejka, George Fitzmaurice, Autodesk Research (Canada)
Systematically evaluates potential multi-touch regions in a desktop configuration and implements the Magic Desk system to explore the design space of multi-touch-integrated computing. Enhances desktop computing experience with multi-touch input.
Fit4Life: The Design of a Persuasive Technology Promoting Healthy Behavior and Ideal Weight
Stephen Purpura, Victoria Schwanda, Kaiton Williams, William Stubler, Phoebe Sengers, Cornell University (United States)
In this paper we present a design and critical review of a modern persuasive mobile technology to encourage fitness and healthy lifestyle.
Field Trial of Tiramisu: Crowd-Sourcing Bus Arrival Times to Spur Co-Design
John Zimmerman, Anthony Tomasic, Carnegie Mellon University (United States)
Charles Garrod, Swarthmore (United States)
Daisy Yoo, Chaya Hiruncharoenvate, Carnegie Mellon University (United States)
Rafae Aziz, University of Washington (United States)
Nikhil Thirunevgadam, Stanford University (United States)
Yun Huang, Aaron Steinfeld, Carnegie Mellon University (United States)
This paper reports on a field trial of a social computing system that allows transit riders to crowd-source real-time arrival information by sharing GPS traces from their mobile phones.
"Voluntweeters": Self-Organizing by Digital Volunteers in Times of Crisis
Kate Starbird, Leysia Palen, University of Colorado, Boulder (USA)
This empirical study describes the behaviors of "digital volunteers" during the aftermath of the 2010 Haiti earthquake. We relate these behaviors to long-standing theory on convergence and self-organizing during disaster.
When Designing Usability Questionnaires, Does It Hurt to Be Positive?
Jeff Sauro, Oracle, Measuring Usability LLC (United States)
James Lewis, IBM (United States)
Questionnaires like the System Usability Scale have both positively and negatively worded items to reduce response biases. Two experiments show that unintended mistakes, miscoding and misinterpretations outweigh any purported benefits.
Reuse in the Wild: an Empirical and Ethnographic Study of Organizational Content Reuse
Yelena Mejova, University of Iowa (USA)
Klaar De Schepper, Columbia University (USA)
Lawrence Bergman, Jie Lu, IBM T.J. Watson Research Center (USA)
A large-scale study of content reuse networks in a large organization. Provides insight into organizational reuse patterns and guidance in building systems to support reuse.
Computers can't Give Credit: How Automatic Attribution Falls Short in an Online Remixing Community
Andrés Monroy-Hernández, Microsoft Research, MIT (United States)
Benjamin Mako Hill, MIT (United States)
Jazmin Gonzalez-Rivero, danah boyd, Microsoft Research (United States)
Mixed-method study describing attribution and credit-giving in a user-generated content community for young people. Findings illustrate opportunities and limitations for the design of remixing communities.
Of Passwords and People: Measuring the Effect of Password-Composition Policies
Saranga Komanduri, Richard Shay, Patrick Gage Kelley, Michelle Mazurek, Lujo Bauer, Nicolas Christin, Lorrie Cranor, Carnegie Mellon University (United States)
Serge Egelman, National Institute of Standards and Technology (United States)
This paper presents the results of a large-scale user study on password creation and user behavior under different password-composition policies.
No Clicks, No Problem: Using Cursor Movements to Understand and Improve Search
Jeff Huang, University of Washington (United States)
Ryen White, Susan Dumais, Microsoft Research (United States)
We present a scalable approach to capture and analyze cursor movements during Web search, and show how these data can be used to improve search.
Tangible Bots: Interaction with Active Tangibles in Tabletop Interfaces
Esben Pedersen, Kasper Hornbæk, University of Copenhagen (Denmark)
Presents interaction techniques for active, motorized tangibles. Active tangibles can assist users by haptic feedback, by correcting errors, by multi-touch control, and by allowing efficient interaction with multiple tangibles.
Metrics for the Evaluation of News Site Content Layout in Large-Screen Contexts
Michael Nebeling, Fabrice Matulic, Moira Norrie, ETH Zurich (Switzerland)
This work studied how the visual area of the browser is utilised by news sites at different widescreen resolutions, which resulted in a set of metrics for assessing content layout.
Many Bills: Engaging Citizens through Visualizations of Congressional Legislation
Yannick Assogba, Irene Ros, Joan DiMicco, IBM (United States)
Matt McKeon, Google (United States)
Many Bills is a web-based visualization system designed to make the tasks of reading congressional legislation, identifying outlier sections within congressional legislation, and understanding congressperson's legislative activity more manageable.
"Now, I have a body": Uses and social norms for mobile remote presence in the workplace
Min Kyung Lee, Carnegie Mellon University (United States)
Leila Takayama, Willow Garage (United States)
Presents interview, field observation, and survey results from three companies that used mobile remote presence systems. Can inform research and design of mobile remote presence systems for distributed work teams.
CueT: Human-Guided Fast and Accurate Network Alarm Triage
Saleema Amershi, University of Washington (United States)
Bongshin Lee, Ashish Kapoor, Ratul Mahajan, Blaine Christian, Microsoft Corporation (United States)
CueT improves speed and accuracy of network alarm triage by combining interactive machine learning and novel visualizations. Can be extended to dynamic environments where humans must organize continuous data streams.
CHI 2011 HONORABLE MENTION NOTES
The Aligned Rank Transform for Nonparametric Factorial Analyses Using Only ANOVA Procedures
Jacob Wobbrock , Leah Findlater , University of Washington (United States)
Darren Gergle , Northwestern University (United States)
James Higgins , Kansas State University (United States)
Presents the Aligned Rank Transform, a statistical technique for performing nonparametric factorial ANOVAs capable of examining interaction effects, even for repeated measures data. Useful for evaluations in HCI.
When the Implication Is Not to Design (Technology)
Eric Baumer, Cornell University (United States)
Six Silberman, Bureau of Economic Interpretation (United States)
We argue technological interventions may not always be appropriate. Using examples from HCI for sustainability, we provide three questions to help articulate inappropriateness. We also describe this argument's practical ramifications.
A Phenomenology of Human-Electricity Relations
James Pierce, Eric Paulos, Carnegie Mellon University (United States)
Building on Don Ihde's philosophy of technology this paper develops a theoretical framework of human-electricity relations for sustainable interaction design and HCI.
Placing a Value on Aesthetics in Online Casual Games
Erik Andersen, Yun-En Liu, Rich Snider, Roy Szeto, Zoran Popovic, University of Washington (United States)
Describes a series of A/B tests that measured the value of aesthetics in two published Flash games. Can help determine where resources should be spent during the game development process.
Cursor Relocation Techniques to Help Older Adults Find 'Lost' Cursors
Nic Hollinworth, Faustina Hwang, University of Reading (United Kingdom)
Describes how a standard computer mouse was enhanced with a touch sensor and used to help make locating the mouse cursor easier for older adult computer users.
On the Costs of Multiple Trajectory Pointing Methods
Philip Quinn, Andy Cockburn, University of Canterbury (New Zealand)
Kari-Jouko Räihä, University of Tampere (Finland)
Jerome Delamarche, Polytech Paris-Sud (France)
Demonstrates that enhanced pointing techniques offering multiple target trajectories can incur significant limitations due to search/decision time costs. Describes a methodology and study of cursor warping and Ninja cursors.
Utilizing DVD Players as Low-Cost Offline Internet Browsers
Gaurav Paruthi, William Thies, Microsoft Research India (India)
Describes how to use ordinary TVs and DVD players to browse offline Internet content. Enables communities in the developing world to access Wikipedia and other resources at very low cost.
Using Predictive Human Performance Models to Inspire and Support UI Design Recommendations
Bonnie John , IBM T. J. Watson Research Center (United States)
Demonstrates that a Keystroke-Level Modeling tool, CogTool, enables even inexperienced UI designers to make well-grounded recommendations for improving interface usability in addition to reliable estimates of skilled execution time.
MoBoogie: Creative Expression Through Whole Body Musical Interaction
Megan Halpern, Cornell University (United States)
Jakob Tholander, Stockholm University (Sweden)
Max Evjen, Johns Hopkins University (United States)
Stuart Davis, Andrew Ehrlich, Kyle Schustak, Eric Baumer, Geri Gay, Cornell University (United States)
Case study of the development of a mobile smart phone application that generates music that responds to movements. Provides insight into design for creative expression, physicality, and children.
GreenHat: Exploring the Natural Environment Through Experts' Perspectives
Kimiko Ryokai, Lora Oehlberg, Michael Manoochehri, Alice Agogino, UC Berkeley (United States)
We present the design of mobile learning experience that takes advantage of access to multiple experts and context-sensitive information in the learner's immediate physical environment.
Antiquarian Answers: Book Restoration as a Resource for Design
Daniela Rosner, UC Berkeley (United States)
Alex Taylor, Microsoft Research (United Kingdom)
As technologies age, they experience wear, sometimes resulting in loss of functionality. The aim of this paper is to enrich HCI design practices by considering the material qualities of book restoration.
Sampling Representative Phrase Sets for Text Entry Experiments: A Procedure and Public Resource
Tim Paek, Bo-June (Paul) Hsu, Microsoft Research (USA)
A procedure for sampling representative phrases from any large corpus so that text entry researchers can develop their own stimuli. Code and phrase sets for email, Facebook and Twitter available.
CHI 2011 HONORABLE MENTION CASE STUDIES
BISi: a Blended Interaction Space
Jeni Paay, Jesper Kjeldskov, Aalborg University (Denmark)
Kenton O'Hara , Microsoft Research (United Kingdom)
We present early iterations of the design of a Blended Interaction Space prototype, and the lessons learned from its creation.
Interactive Sparklines: A Dynamic Display of Quantitative Information
Leo Frishberg , Tektronix,Inc (United States)
Describes the intensive research and system design effort behind a seemingly simple information visualization. Can help design organizations better plan and manage complex design problems to deliver competitive, innovative solutions.
From Basecamp to Summit: Scaling Field Research Across 9 Locations
Jens Riegelsberger, Audrey Yang, Konstantin Samoylov, Elizabeth Nunge, Molly Stevens, Patrick Larvie, Google Inc. (United Kingdom, United States, Russian Federation)
A case study describing methods, logistics, and learnings from running a 1-week field research project across 9 locations. Informs researchers about risks and benefits of running research under similar constraints.
SIGCHI BEST OF CHI 2011 AWARDS COMMITTEE
Sara Kiesler (chair), Carnegie Mellon University
Eric Horvitz, Microsoft Research
Tom Finholt, University of Michigan
Richard Harper, Microsoft Research
Scott Hudson, Carnegie Mellon University
John Riedl, University of Minnesota
Manfred Tscheligi (Case Studies), University of Salzburg
Image credits: Flickr user Too Tall Paul