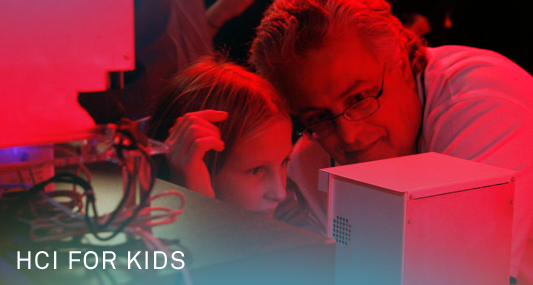 CHI 2011 Child-Computer Interaction Featured Community
For related news and information, please see the
IFIP SIG on Children and HCI News and Events.
Important Dates
Message from the Child-Computer Interaction Community Co-Chairs
Child Computer Interaction is a new Featured Community for CHI 2011. It is a place for contributions where a method or a design is proposed that is especially suited to children and that could not sensibly be easily adapted for adults. Please read the full Child Computer Interaction Community proposal for a more thorough description of the community.
We are keen to have contributions to all the usual CHI tracks but are also offering four special tracks for our own extra special community. These are:
Child Partnership Projects (CPP): A design competition for teams that include children.
Participatory Papers: Scholarly publications that are disseminated for children readers. (i.e. written in a different way)
Lessons from the Trenches: Targeting industrial cases and experiences. A lively venue where experiences can be exchanged, and researchers can be exposed to the realities of industrial practice in this domain. 
Theatre pieces: High quality video contributions, available in a library after the conference, of methods that can be re used and learned from.
We encourage you to contribute to this community. For more information about these tracks and other ways to contribute to the conference, please contact the chairs.
Join us in making this the snappiest happiest place to be in CHI 2011!
Janet Read, Panos Markopoulos, Allison Druin
Contact us: childcomputerinteraction@chi2011.org
Types of Submissions
Submissions about child-computer interaction advances are appropriate in any of the following forums. We especially encourage you to submit interesting Case Studies that illustrate how innovative child-computer interaction techniques were used in specific projects that have broad implications. We urge you to submit material to one or more of the following forums: 
Workshops
A one day workshop workshop on Child Computer Interaction will take place on Saturday May 7th. Workshops present an opportunity to connect with other researchers and practitioners on a specific topic area. Workshops aim at deepening our understanding of specific topics through interactive presentations, discussions, and break-out sessions, facilitated by the workshop organizers. Please refer to this workshop's Call for Participation for more information and its submission deadline.
W14: Child Computer Interaction: Workshop on UI Technologies and Educational Pedagogy
Saturday May 7th, 2011
Contact: Edward Tse, edwardtse@smarttech.com
Organizers: Edward Tse, Johannes Schöning, Jochen Huber, Lynn Marentette, Richard Beckwith, Yvonne Rogers, Max Mühlhäuser
For the full list of available workshops and their individual Calls for Participation please see the CHI 2011 list of workshops.
Preparing Your Submission
You must prepare your submission in the format that is required for each type. Please use the term "child-computer interaction"¯ in the title, abstract, or author's keywords to help us get it to qualified reviewers. You can contact us at childcomputerinteraction@chi2011.org if you have questions about child-computer interaction submissions. We encourage you to check the due dates, read the requirements for your submission ideas, and start now, if you haven't already.