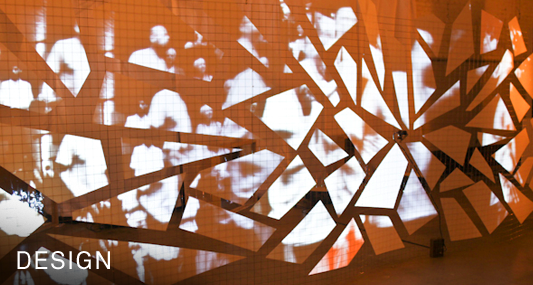 CHI 2011 Design Community
Important Dates
Message from Scott and Carla, Design Community Co-Chairs
As the excitement in and around Design continues to build and spread, people in the design community have the opportunity to ask "what do we mean when we say 'Design'?" CHI 2011 is one of the few annual conferences where that question can be posed to such a broad range of scholars, thinkers, and 'do-ers'. People at CHI make things happen and create the kinds of unique experiences that impact everyday life. Design continues to exist and provoke exciting times, its practices connecting more disciplines each year.
In turn, these disciplines are experiencing an evolution in methods and practices that is changing the nature of the work practitioners do and the range of scholarship in which academics engage. "Design" is becoming a more commonly used and highly actionable term for people in many fields, producing a more complex engagement with the word and with those who use it. Whereas in the past a designer may have been called upon to execute designs based on existing research or assumptions, it is likely that a designer will now also be asked to create new knowledge by participating in and leading the research process. The product of this new activity is "design intelligence" information and knowledge that facilitates the connections required to create new products, systems, interactions, and environments. Nowhere is this more apparent than in design fields related to technology. This conference offers an opportunity to share your experience and methods with other like-minded designers and design thinkers.
What is a Design Approach?
Contributions to this community focus on how innovation, iteration, creativity, non-linear thinking, and exploratory approaches result in useful and unique outcomes. A 'design' needn't be an artifact or an aesthetically focused process. In fact, the only real requirement of design is that it provides value for stakeholders, and this is what this community needs to contribute to CHI. Who are we designing for and why is our work valuable for them?
Building on last year's Chairs' statement: when we think about what we design, how we design, and why, it helps us (and others) to shape technology. The work of the Designers is among the most successful and visible aspects of CHI. A strong Design Community at CHI means that these opportunities will remain. We can envision futures, set challenges, and meet them and we can do so with the finest and most innovative minds in the Human Factors community. It's a great time to call yourself a Designer.
If what you do fits in this picture then you should be in the Design Community at CHI. Please check out the calls and start working on your submission we'd love to see you there!
We are really excited to see you in Vancouver!
Scott G. Pobiner & Carla Diana Contact us: design@chi2011.org
Types of Submissions
You can submit proposals in the following categories:
Submissions about design research, design process, and design work are requested to any of these forums.
We especially encourage you to submit interesting Case Studies that illustrate how the design process helps to create unique solutions and valuable outcomes for other communities.
Workshops
CHI Workshops take place on Saturday May 7th and Sunday May 8th. They present an opportunity to connect with other researchers and practitioners on a specific topic area. Workshops aim at deepening our understanding of specific topics through interactive presentations, discussions, and break-out sessions, facilitated by the workshop organizers. Submission deadlines are spread through January and February 2011 - please refer to each individual workshop's Call for Participation for more information.
Workshops most relevant to the CHI Design community:
W5: The User in Flux: Bringing HCI and Digital Arts Together to Interrogate Shifting Roles in Interactive Media
Saturday & Sunday May 7-8th, 2015
Contact: Tuck Leong, tuckwah@gmail.com
Organizers: Tuck Leong, Lalya Gaye, Atau Tanaka, Robyn Taylor, Peter Wright
W15: Designer Experience: Exploring Ways to Design in Experience
Saturday May 7th, 2011
Contact: Mika Nieminen, mika.nieminen@tkk.fi
Organizers: Mika Nieminen, Mikael Runonen, Marko Nieminen, Mari Tyllinen
W20: Appropriation and Creative Use: Linking User Studies and Design
Sunday May 8th, 2011
Contact: Antti Salovaara, antti.salovaara@hiit.fi
Organizers: Antti Salovaara, Kristina Höök, Keith Cheverst, Michael Twidale, Matthew Chalmers, Corina Sas
For the full list of available workshops and their individual Calls for Participation please see the CHI 2011 list of workshops.
A good Design Case Study
Tells a story about a real project.
Poses several questions related to issues that the project raised.
Uses the narrative of the story to answer address these issues and provide the reader with a clear understanding of the consequences and opportunities involved in these unique circumstances.
There are two options for Case Studies: Long Case Studies (maximum of 16 pages); Or, Short Sketches (4 pages). Both will be presented at the conference, and will appear in Extended Abstracts; on the proceedings DVD and stored for long term reference in the ACM Digital Library. Submissions for Case Studies are due by 8 Oct 2010.
For more information you can follow any of the links above, or see the Call for Participation.
Review Process and Criteria
The basic criterion for presentation at CHI 2011 is new information that will advance the field in important ways. For each type of forum there are additional criteria listed for it in the Call for Participation. If you prepare a submission that focuses on Design as it relates to the Interaction between People and Technologies we will make every effort to get it to reviewers who are technically knowledgeable, experienced, and passionate about Design and it's role at CHI.
Preparing Your Submission
You must prepare your submission in the format that is required for each type. Please use the term "design"¯ in the title, abstract, or author's keywords to help us get it to qualified reviewers. You can contact us at design@chi2011.org if you have questions about design submissions. Please be sure to check the due dates of your submission type, read the requirements for your submission ideas, and start now, if you haven't already. Good luck. We hope to see your work in Vancouver!